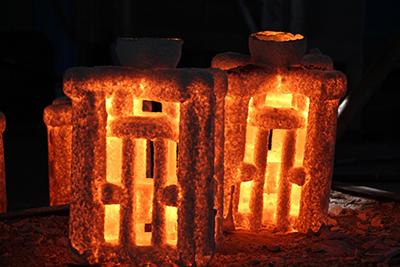 Lost wax casting is an old casting method. As it can minimize the secondary processing after casting, it is still widely used in the production of various products. Within the life cycle of a mold, it can produce tens of thousands of wax molds, which can reduce the mold cost per unit product in multiple production.
Lost wax casting can process a variety of alloy materials and the produced parts have precise, smooth surface, low dimensional tolerance, and thin-walled castings to realize small casting weight. Investment casting can produce parts with any size or complexity and can achieve a tolerance level that cannot be achieved by other methods.
Yanshan Precision Machinery co., Ltd could cast over 100 types of black or non-ferrous alloys, such as stainless steel, duplex steel, carbon steel, Monel and others, to produce castings with complex shapes according to special requirements of customers. Castings made in Yanshan Precision Machinery co., Ltd have stable quality and dimensional accuracy, whose dimensional tolerance could be up to ±0.1mm, with advanced equipment and automatic process control system in Yanshan Precision Machinery co., Ltd. Our products have large range of size and weight, from several millimeters to tens of meters, one gram to 200 kilogram. We could produce casting with 1mm thickness, less than 1mm aperture, level 4~6 size accuracy and R&0.4-3.2μm surface roughness.